Summer is almost here and every summer I find myself looking at the sunglasses selection.  It doesn't matter whether I actually need any new sunglasses or not, just trying on new sunglasses makes me feel like the cold, wet weather is behind me for the year.
Miuccia Prada is one of the most iconic figures of the fashion world and she produces beautiful clothes and accessories season after season for her Miu Miu line.  Although I generally love what she does for Prada each season, I find the Miu Miu line to be more fun and accessible.
Miu Miu have produced several pairs of beautiful sunglasses this season, all of which I would love to own.
The first pair is the turquoise hexagonal pair below: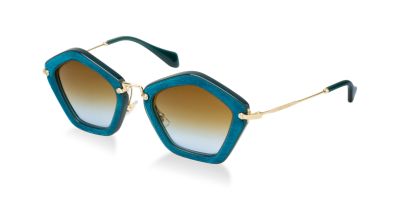 The style and shape of these glasses fit in with the current trend for retro inspired shades and the colour is the perfect bright pop for summer.  The front of the frames have a suede like fabric on them giving them a matte finish.
Next up are: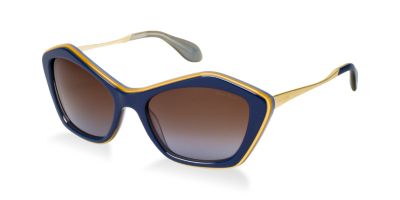 The cats eye shape is again a very retro style and the navy and gold colour way a bit more of a classicwhile still being more interesting than the black and silver sunglasses usually seen.
And finally:
Its a bit hard to see the detail in the image above but in real life these glasses are amazing.  The frames are silver glitter and the shape are the classic big style sunglasses that I tend to wear most as they really suit my face shape.